The sights and... sights of the Origins Game Expo. Read on, for the images and text herein will teach you about many things that we forgot to actually post about while we were there. Click a photo to see the big version.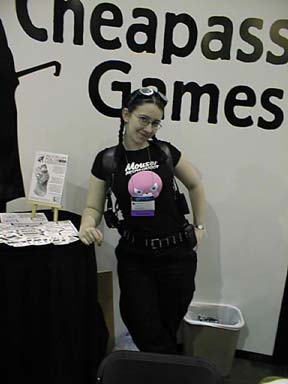 If I had to take a booth-babe picture, I was only going to take one, and I was gonna make damn sure it was of a woman of quality. Julie Haehn of Cheapass Games, we've got one hand in our pocket and the other salutes you!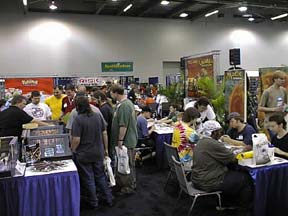 This is almost the entirety of the Wizards of the Coast booth...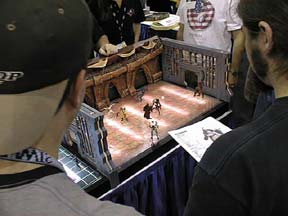 ...but peep out these fly-ass D20 Star Wars demo setups. I was hoping this would be Epic Duels, but whatever.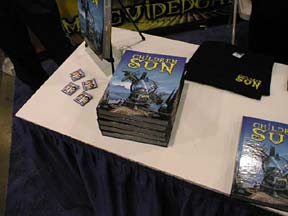 I was so surprised and impressed that this thing finally, actually existed that I took a picture as proof. Of course, it was sitting on the store shelf when I got back, so I suppose it's not that impressive anymore.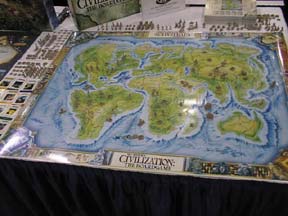 The Civilization board game became a video game, which has now become a board game. I asked the Eagle Games guy how many iteration he thought it would take of going back and forth between board game versions and video game versions, before Civilization will no longer bear any resemblance to the original Avalon Hill design. I suppose some would say it already doesn't. Anyway this comes out in September.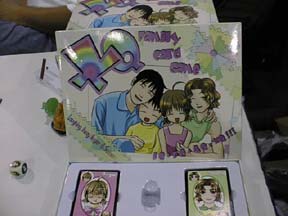 Okay, you have to look at the large version to get the full impact of this. I didn't catch the company name, but there is a grid of Sadness and Anger cards which you must counteract with your Smiling and Laughing cards. The subtitle there on the cover is "Laughing away Anger and Sadness." Kawaii!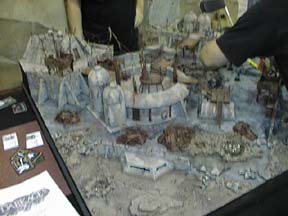 The Dark Age guys had the most impressive terrain I saw and couldn't evidently get a focused picture of.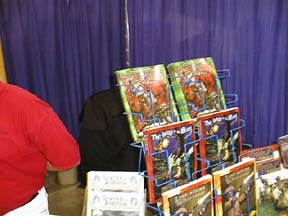 The D20 Hell on Earth books (top) and D20 Deadlands supplements (middle) are halfway in between the respective original versions' colors, and black. I asked the Pinnacle rep at the booth if this reflected the darkening of Pinnacle's soul as they slowly sold out to WotC, and he laughed, "We're not selling our souls, just renting them." (Seriously, no one's soul is getting sold, and I think D20 is the right way to do both Hell on Earth and Lost Colony, should the latter ever really happen.)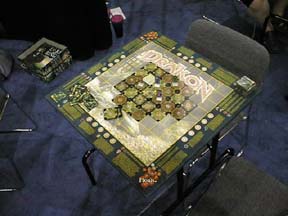 This is seriously cool. That's a table surface, folks, not a poster or foamboard or anything. FFG had a very pimpin' booth and are fast becoming a force to be reckoned with.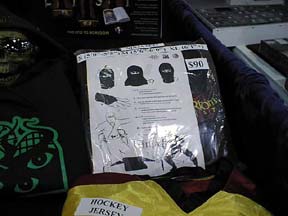 Speaking of gaming companies no doubt funded by shadow governments, the Morton's List folks were selling hockey jerseys and ninja suits. They were also selling 360 of the Inner Circle, a new supplement with new Mutations, Deviations (no new Quests, because "we already got them all"), and some weird meta-game rules.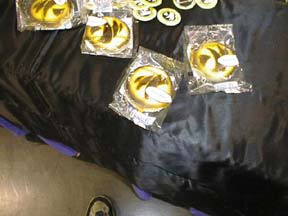 Those are cookies. That is frosting on top. That is the Jadeclaw logo, printed in the frosting. The cookies were free. I did not eat a cookie. I feared the cookie. I am sure it was a perfectly good cookie.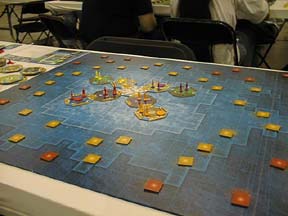 Mayfair was showing Nautilus, which looks cool. Kinda looks like an exploration game a la Tikal, although I could be totally wrong.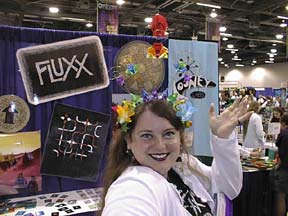 Petra made the tiara herself. She is not a paid Looney Labs employee. EXTREME GAMING!!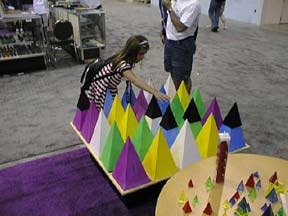 Also in the out-of-control department at the Looney booth was this prototype of a pit trap designed to capture small girls. (Actually a game of Volcano played with the fold-up giant pyramids now available.)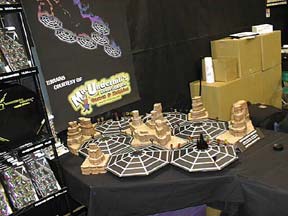 They're still at it... and this time, they have terrain. Mmm. Terrain.