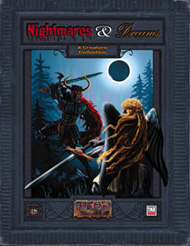 Mystic Eye Games just let us know that their D20 System book, Nightmares & Dreams: A Creature Collection, won't be arriving quite as soon as originally predicted. MEG's Doug Herring had an acceptable reason for the delay:
We could not fit in all that we wanted in a 56 page book so we bumped it up to 72 pages. The good news is we are not going to change the price and it will remain at $10.95… The other reason is we chose to redo the cover art and it looks great.
Creatures and items from Mystic Eye's The Hunt: Rise of Evil setting will fill the pages of the newly expanded book. We were assured that this month's release, The Pit of Loch-Durnan is still on target for its release toward the end of this month. Look for Nightmares & Dreams in mid-June.