About a week or so before the convention, it was announced that actor Val Kilmer would be appearing at Gen Con SoCal. On the industry mailing lists, talk suddenly shifted to a flurry of excited emails about The Saint, The Doors, Val's cameo as Elvis in True Romance, and the few game products based on Willow. There wasn't time to properly advertise his appearance, but gamers were certainly excited at the prospect of seeing him.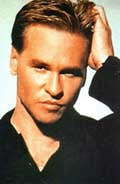 However, the convention hadn't really pinned down anyone on when they'd be signing in the exhibit hall. Sure, the schedule had a list of Q&A sessions, but other than William Shatner, no one knew exactly when to expect special guests to be available — not even the convention staff. On top of that, many non-gamers of the media (and probably Kilmer's agent) were confusing Gen Con SoCal with the original Gen Con, reporting that 25,000+ attendees were expected (actual expectations for SoCal were more like 4,000). Combine those factors with the lack of time to advertise and the ego of a movie star, and you've got what happened on Saturday morning.
Mr Kilmer came down to start signing at close to 11am on the third day of the con, with signs posted giving his rates (it's not uncommon for special guests to charge $10 – $20 for an autograph, but Val's rate was $30, or $50 for a Polaroid with him). Seeing a line of less than a dozen fans, Val signed a few autographs, was approached by two Stormtroopers and Darth Vader (it was costume day, after all), and disappeared shortly thereafter.
Kilmer's agent said he was calling his kids to make sure they were on their way to the con, then after twenty minutes or so, said he'd gone back to his room to meet them. As lunch approached, it became apparent that Val wasn't coming back just yet, so convention staff said to try back at 1pm.
At 1pm, Val's agent was lurking around looking busy, but Kilmer was still missing. Some fans hung around a while in the hopes of Val making good, but he never returned. For the rest of the convention.
Meanwhile, William Shatner signed hundreds of autographs for free, all while suffering from the flu and looking rather pale. Several folks I spoke with were concerned for his health, actually.
Peter Adkison, owner and CEO of Gen Con LLC, had this to say about our buddy Val: "He showed up late on Saturday, stayed for about 15 minutes, then freaked out and left and never came back. In fact, he never will come back to one of our shows — at least not while I'm in charge."
Had I been Kilmer's agent and seen the relative lack of a line, I might have pulled my movie star out as well to preserve my job. But Val sure didn't make any friends at Gen Con SoCal last weekend.