For the first time in six years, the Magic: the Gathering World Championships was held in the continental United States. The 11th Annual Magic: the Gathering Worlds was held at Fort Mason Center in San Francisco. As it was so tantalizingly close to us Cave Dwellers, we couldn't possibly resist checking it out. It turns out there was plenty to see.




I had played Magic: the Gathering between 1995 and 1998. It was fun, but I was never good enough to play at tournament level. I had neither the time to practice nor the patience to make decks that I was comfortable with playing. I had seen regional and state level tournament play but never seen anything on an international level. This was a first for me and I had the good fortune to attend this tournament with Brian, a friend of mine who, back in the day, had come close to becoming a pro ranked player. His experience was invaluable when it came to explaining the finer points of Magic: the Gathering and the workings of a major tournament.


Wednesday was press day. We met James Singleton, a public relations guy working for Wizards of the Coast. He was our contact point at this event and he set us up with a couple of pretty swanky press badges and bags of swag that included the obligatory press package, a playing mat, a boxed core game, a notebook similar to one I actually had to buy at Gen Con, more cards and a badge leash identical to the one we were already wearing. I opened the press kit and the first thing that fell out were even more cards. I picked them up off the floor. They were all white. Terrific. The one color I didn't play. Brian pulled a card box out of the press bag and commented, "Oh hey, it has a life counter on it – this is deluxe!"
Wide World of Magic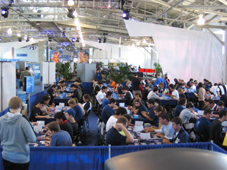 At the press lunch we talked to a consultant who was helping Wizards of the Coast get their internet streaming video going. It was none other than Justin Gary, member of the 2003 National Team Championship team: Team USA. Turns out he took a year off in between undergraduate and law school to play Magic: the Gathering professionally. Looks like it turned out pretty well for him. His name is on the National Team Championship trophy and he's taken home a total of $128,000 in lifetime earnings. Since then, he's finished a year of law school and is now taking another year off from law school to explore other options. He still has a lot of enthusiasm for Magic: the Gathering and was really happy to be supporting Wizards of the Coast. During the lunch, there were the usual speeches and introductions. The one thing that really stood out for me in all this was the amount of money that was at stake. The winner of the individual World Championship title took home $35,000. $35,000 playing Magic? That's good money. It's not the $5 million pay out that was up for grabs at the Binion's World Series of Poker this year, but there wasn't a $10,000 buy in either.
After lunch there was a press tour. Chris Galvin, VP of Organized Play, showed a largely French and Japanese speaking international press corps around the tournament hall. He answered questions and pointed out the various highlights – including the massive trophy case that contained the World Championship trophy, the National Team Championship trophy and the Pro Player of the Year award. He emphasized the international aspect of the tournament and did his best to give us a look at how the Magic the Gathering World Championship works. A tournament of this size is a major undertaking. With over three hundred guests from over fifty different countries, the logistics of bringing together a tournament of this scope is simply staggering.
After the tour, I talked to Chris to find out some things that weren't on his prepared speech. I asked him what he liked most about Magic: the Gathering and being involved with Wizards of the Coast. He said that the one thing he liked about Magic was it's adaptability, and that the broad international appeal of Magic was a testament to that. I asked him if he had experienced any problems with the international nature of the Magic: the Gathering Worlds, and he assured me that nothing major had come up. Chris said that a lot of effort was made to draw twenty judges that spoke the languages needed to make the tournament work. In fact, Chris said one of the more interesting challenges is working with China, where Magic: the Gathering has been nationalized like all their sports. The Chinese government needs to approve all the travel visas, and there have been cases where eligible players have not been able to compete because they weren't allowed to leave the country. Still, he maintains that Wizards of the Coast has a good relationship with China and Magic continues to grow in popularity there.
Finally, I asked Chris, "What is your favorite tournament?" He replied that his favorite tournament was the Junior Super Series Championship – a tournament for ages 15 and younger in the US and Canada. Chris added that it was one of the only tournaments that brings both the players and their parents together in one place, and he's found talking to the parents of Magic players has been especially rewarding. The main thing Chris hears from parents: "I don't play the game and don't know how it works, but I like that it gets my son/daughter out and socializing with others, that it teaches them good sportsmanship, and it's fun."
With that in mind, I wandered the tournament floor as Brian explained to me the specifics of tournament play. He explained things like how a Swiss round worked and what standard format play meant. He explained the differences between a Booster Draft format, a team Rochester Draft format and a Block Constructed format. This was all pretty elementary for most Magic players, but for me, it revealed levels of strategy and play I wasn't previously aware of.


We drifted through the art gallery. One of the things I've always admired about Magic: the Gathering was the consistently good artwork. It's something that, in the past, has set Magic apart from all the other card games and continues to do so. I made a point of checking out the guest artists area, as I


wasn't about to pass up the opportunity to meet artists Christopher Rush and Scott M. Fischer. But, the high point, for me, was an artist by the name of Seishirou Ookubo who turned five or six cards into outstanding pieces of layered, three dimensional art that truly had to be seen to be believed.
Making his Mark



Brian and I caught up with Mark Rosewater in the Side Events area and sat down to talk with him. I was aware that he started out as a Magic: the Gathering player and was later hired by Wizards of the Coast. He had just been promoted to the Head of Magic Design, and I had to ask, "What made you want to be involved with Magic on such a personal level?" He had an interesting story to tell. He said that he was moving and he had packed all his games into fifteen moving boxes. This is a guy who really loves games – all sorts of games, not just CCGs. But Mark realized that Magic: the Gathering was his favorite game for two reasons. The first reason was the adaptability of game; Magic, he said, can adapt to suit the individual tastes and needs of any player. Players often look at Magic differently. The biggest challenge, for him, is designing a game for people who often expect very different things from it. The second reason is that Magic encompasses the one thing that is truly fun about games: figuring out how the game works. "Magic is always evolving," he said, "We learn stuff from the past and put it back into the game."
Mark said that currently each Magic release is centered around themes. The Mirroden set has a specific look and feel, and with Champions of Kamigawa it is a distinctly Japanese/Oriental theme. Mark emphasized that what the Magic community cares about also continues to grow and evolve. He said the past four years was more about play ____. That is, it was more about play more multicolor, play more artifacts, and so on. According to him, the future is more subtle. Look forward to interconnecting themes between Magic expansion blocks, and a synergy of mechanics between the blocks as well. As the Head of Magic Design, Mark will be in charge of the Creative staff and will be very much involved in the development of story.
When asked if it was difficult to incorporate the various player submitted ideas into Magic, Mark spoke of the online player submission system he'd started so that there was a controlled way for players to submit their ideas. Most of the ideas being submitted were things that didn't really add to or expand the system, and that they were usually things that had either been done or were so obvious that WotC was in the process of doing it. Mark wished there was a way he could get to the two or three really good ideas without wading through so much stuff – but there isn't. However, he insisted the connection with the players is an important one and absolutely will continue.
To hit him with an old school topic, we asked Mark, "What was your most elegant puzzle you created for Duelist magazine," the original support publication for Magic back in the day. He was a little surprised by the question, and after a bit of thought, he finally replied that his most elegant puzzle was a situation where there were three direct damage cards and two Mana Flare cards on one side and three Counterspell cards on the other. The solution was simple, yet elegant: you had to force the Counterspell-equipped opponent to mana burn himself to death. Finally, Brian asked Mark for his favorite flavor text. He thought about it and said that the one that stood out for him was on the Reparations card from Mirage. The flavor text read something like, "Sorry I burned down your village. Here's some gold." To this day, he's surprised that it made it through the approval process.
We wrapped up our conversation with Mark Rosewater, and split up to look around. Brian had seen some people that he recognized from back when he used to compete. I circulated and took a lot of photographs. Helene had informed me that my interview with Richard Garfield had to be postponed until Thursday afternoon (more on that soon). I had the rest of the day to explore, watch, and think. I sat in the pressroom, overlooking the tournament floor, I thought about how fortunate I was to be able to see the larger picture. I had the chance to witness a truly international event ,where countries from around the world had sent their best to compete. It was an incredible experience. In a way, I'm glad I was able attend the Magic: the Gathering Worlds without the burden of being a competitor. Having competed in other things, I know how easy it is to focus on what's broken and completely miss out on the significance of the event itself. In the end, the Magic: the Gathering Worlds is not just about winning or losing, it's about a card game that has brought the best of the world together in one place.