It's that time of year again, and we've learned Germany's game http://viagracanadausa.com/ of the year award for 2010 (better known as the Spiel des Jahres, but you knew that) is Dixit by Jean-Louis Roubira (Libellud/Asmodee). The storytelling-meets-Apples to Apples game is back in stock according to Asmodee, so if you want to grab a copy, it should be available.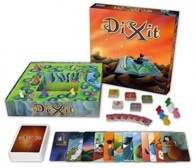 I posted what I know of the nominees a few weeks ago, but here's the list again, in case you want to test drive a couple selections for yourself:
Dixit, the winner (Libellud/Asmodee)
Roll Through the Ages: The Bronze Age from Eagle Games/Pegasus Spiele (by Pandemic designer Matt Leacock, who I recently interviewed for our Gaming News Update podcast)
Portrayal by William P. Jacobson and Amanda A. Kohout (Asmodee)
A la Carte by Karl-Heinz Schmiel (Moskito/Heidelberger)
Fresco by Marco Ruskowski and Marcel Süßelbeck (Queen Games)
Congratulations again to all the nominees, and to Dixit for winning this year's award.