You've already read through the 2018 Origins Award nominees, right? And played all of them, as you were instructed? Okay, good – let's proceed.
As always, congratulations to all the nominees. Here's the winners:
2018 Origins Award winners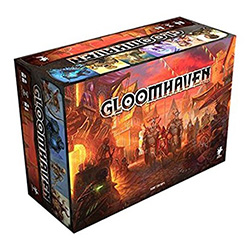 Best Board Game, Fan Favorite, and Game of the Year:
Gloomhaven (Cephalofair)

Best Card Game:
Ex Libris (Renegade Game Studio)
Fan Favorite Card Game:
Hero Realms (White Wizard Games)

Best Miniatures Game & Fan Favorite:
Warhammer 40,000 8th Edition (Games Workshop)

Best Collectible Game & Fan Favorite:
Star Wars Destiny: Awakenings Booster (Fantasy Flight Games)

Best Family Game & Fan Favorite:
Azul (Plan B Games)

Best Game Accessory & Fan Favorite:
Terraforming Mars Organizer (The Broken Token)

Best Role-Playing Game Supplement & Fan Favorite:
Xanathar's Guide to Everything (for Dungeons & Dragons) (Wizards of the Coast)

Best Role-Playing Game:
Adventures in Middle Earth (Cubicle 7)

Fan Favorite Role-Playing Game:
Starfinder (Paizo)
Surprised by anything? Outraged, even? Or completely happy and satisfied, maybe? Let us know in the comments.