by Joe G. Kushner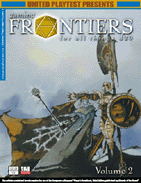 Gaming Frontiers Volume #2
160 full-color pages
Editor in Chief Robert J. Williams
Published by United Playtest
$17.95
Gaming Frontiers #1 was a tough act to follow. How can a company expect to top a full color premiere backed by several icons of the D20 publishing market? Well, the way to beat such a great start is to increase the quality and page count while reducing the number of adverts.
Gaming Frontiers has several different companies submitting material to its second issue: Alderac Entertainment, Atlas Games, Bard's Productions, Green Ronin Publishing, Inner Circle Games, Skeletonkey Games, and other gaming greats all provide new material, exclusive outtakes, and more -- including interviews, reviews, fiction, and artist spotlight. I say more because Gaming Frontiers #2 is twenty pages longer than the first issue!
Like the first issue, this magazine is broken up into different sections. The Monster Lab includes creations from Inner Circle Games that are illustrated in full color, but do suffer from being too dark. The Droth'yar are large monsters used as beast of burden. The Nighbeast is a magical monster that stalks the night (obviously) and are dreaded throughout the world of Avadnu. Lastly, the Zha'lari are reptilian humanoids that stalk deserts and other dry lands. Those looking for something a little more exotic may want to flip over to look at Atlas' Nyambe African Adventures, where several monsters are listed. Unfortunately, perhaps due to space constraints, the background details are kept to a minimum, but the creatures do provide a good idea of what type of monsters to expect when the hardcover hits the shelves this year.
Those looking for different magic items will enjoy the "Treasure Chest" by Thunderhead Games, as the items here are geared at monsters, but still useful for any style campaign. Take the Dragon Hammers for instance. The dragon fixated kobolds like to wield these magical weapons with a kick, while Fear Blades radiate fear in a 30' radius with no regard to friend or foe.
Those looking for background on the faces behind the industry will enjoy the interviews not only with Privateer Press, but also with one of the icons of D&D, Gary Gygax himself. This is a nice contrast as Privateer Press ha been one of the rising stars not only with regard to their D20 Witchfire Trilogy of adventures, but also with miniatures as their War Machine line gets ready to kick off. Gary provides us with a quick update on what he's been up to and includes information from The Canting Crew in the form of the Pacer, or City Ranger. This is a nice prestige class because it's one that players can advance into at a fairly low level.
Those looking for fiction will have enjoy 'A Pirate Tale,' a story set in Green Ronin Publishing's Freeport, while those looking for a well known author will find that James Lowder's short story, "The Unquiet Dreams of Cingris the Stout" fits the bill.
Of all the sections here, one of my favorites is from Skeletonkey Games as they present "The Forsaken of Glimm," a group of orcs who follow a priest whose three-eyed gaze boasts no small measure of power. His followers are all unique individuals in their own right, and together they can easily end up challenging a high level party -- and even killing one should they be underestimated. One of the best is Mokk of the Blades, a one handed orc who has turned his handicap into a strength by having a blade attached to his stump, thus doubling his killing power.
Another nice section is the bonus material left out of The Slayer's Guide to Amazons. This includes new weapons, an additional tribe, and a new prestige class, the Path Seekers. As with many of the Slayer's Guides, the art is top notch. Those looking for more from Mongoose Publishing will enjoy the preview from the recently released Judge Dredd RPG that includes the "Street Judge," as well as a list of release dates for the many supplements planned for the Judge Dredd line. Yet of more importance to me, is the release date for their forthcoming Slaine RPG. Like Judge Dredd, Slaine is a character from the 2000AD comic, but his strip is heavily drenched in Celtic myth.
If you're getting ready to sit down and whip up a high-level adventure to prepare your group for an Epic Level campaign, then "Hunt for the Crimson-touched Hydra," may interest you. This adventure is situated in Hammerdog Games' Beware the Bloodstorm, and is designed for twentieth level characters.
Those looking for ideas on how to use actual history either as background or inspiration will enjoy the Role of History article that features William de Sonnac and the Knight Templar. It includes historical information, as well as stats for William himself and a new prestige class, the Knight Templar.
Those more interested in art will want to look over Frameworks. The featured artist in this issue is Patrick Keith, whose work will be familiar to those who saw the cover to Gaming Frontiers #1.
One of the great things about Gaming Frontiers is its use of so many different writers and companies, which sometimes mean that you find something you didn't even know you were looking for or needed. In my case, it was 'Common Ground, Instant Guard.' Bard's Productions provides the referee with guard posts -- small, medium, and large -- and gives the maps and tools needed to quickly throw a guard tower into the game at almost any point with a minimum amount of set up.
Lastly, it is amazing how quickly Gaming Frontiers has picked up on the non-fantasy genres. While not a large part of this issue, AEG's Series Archer spy setting comes under the spotlight with a solo adventure and a new Prestige Class from the world book. Likewise, there is material here from Goodman Games' Dinosaur Planet: Broncosaurus Rex setting. It will be quite scary to see what happens when D20 Modern hits the gaming shelves.
Unlike some publications, the reviews here are not cramped, but rather expansive, providing a good feel for what the book is about. Due to all the other goodies in the book though, only five reviews made this issue. Fortunately, there are numerous other reviews available on the Gaming Frontiers website, so those whose thirst for opinions is never sated should look towards their website.
Those interested in the d20 scene should pick up an issue of Gaming Frontiers just to see what the various companies are offering. Those who want to add some crunchy bits to their game will enjoy this book as it provides new Prestige Classes, magic items, monsters, and more that can easily be added to any fantasy campaign. I'm looking forward to seeing what Gaming Frontiers can do once more genres are covered by the d20 System, but in the meanwhile, I'll enjoy the fantasy based support as long as it lasts.