by Matthew Pook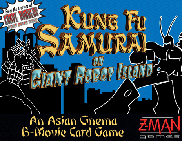 Kung Fu Samurai on Giant Robot Island
Published by Z-Man Games
Written by Stephen Tassie
Illustrated by Steve Bryant, Michael Jackson, Leo Lingas, Jason Millet and Leo Winstead
$19.95
Fans of the first two B-Movie card games from Z-Man Games - Grave Robbers From Outer Space: the B-Movie Horror/Sci-Fi Card Game and Cannibal Pygmies in the Jungle of Doom: the B-Movie Jungle/Pulp Card Game, will be pleased to note that there is nothing essentially different to the gameplay and style of this, the third entry in the series. What is different of course, is the genre, for this new game, Kung Fu Samurai on Giant Robot Island: an Asian Cinema B-Movie Card Game, is based on the films of Hong Kong and the anime and giant monster films of Japan. It being a B-Movie Card Game, it does mean that it retains the detracting factor common to the first two entries in the series, which during play the game does not really feel as the players are actually constructing a movie. Instead they are using the elements and conventions of a movie genre to battle each other and thus win the game.
Having got this singular niggle out of the way, the gameplay of Kung Fu Samurai on Giant Robot Island is still very simple at heart. Between two and six players take turns to create and improve the Defense Strength of their movie, represented by Location cards, and Character cards plus their equipment represented by the Prop cards. They can also send in monsters or Creature cards to attack a movie belonging to another player, matching the Creature's Attack Strength to destroy, eat, kill or zap the target movie's characters and thus reduce the Defense Strength of the target movie. Further, SFX (or "Special Effects") cards can be played to alter Attack or Defense Strengths, as well as to enact a range of other game options.
Like the other games in the series, Kung Fu Samurai comes with a two-page 4 by 6-inch black and white rules leaflet, that is both clearly and well written, along with a deck of 120 full color cards. Apart from the two "Roll the Credits" cards and the various SFX cards, all of the other cards in the game are illustrated with a suitable movie frame done in black and white, which despite the use of several different artists, all seem to fit the game's singular style. Further, all of the cards, bar the "Roll the Credits" cards, have been given a suitable and amusing quote. Of course, it is the combination of these elements - the card title, its illustration and its quote, plus the humor involved - that explains much of the game's appeal.
This humor begins in choosing the movie title necessary for each game. All of the game's cards are marked with a single word and six cards, taken from the top of the shuffled deck will provide enough to determine the title. So drawing "Courage," "Hong Kong," "Honour," "Kung Fu," "Sport" and "Target" could become "Target Hong Kong: the Courage and Honour of Kung Fu," while "Black Belt," "Crimelord," "Drunken," "Dynasty," "Robot," and "Shanghai" could be turned into "Drunken Black Belt Robot versus the Shanghai Crimelord Dynasty." At the game's end, players will score extra if they hold the cards with any of the title words in their hand or movie.
The cards also possess traits that can determine what other cards they can effect and what other cards can affect them in return. These traits are: Alien, Anime, Aquatic, Dumb, Family, Female, Gun, Kung Fu, Large, Male, Monster, Ninja, Old, Smart, Supernatural, Swarm, Treasure, Vampire, Vehicle, Weapon and Young. Of these, two traits have special rules attached to them - Ninja and Kung Fu. When a card with the Ninja trait is used to attack another character or movie, no SFX cards can be played to defend against such an attack. The Kung Fu trait enables players to direct their attacks against a particular character in a movie and not the whole movie itself. Successful attacks do not kill the character but knock them out until the beginning of the defending player's turn. This makes both their special abilities and their contribution to a movie's Defense Strength temporarily unavailable, and thus can greatly weaken a movie.
A simple attack might go as follows: Tim wants to use the "Kung Fu Samurai on Giant Robot Island" creature card (Attack Strength 17) equipped with Kung Fu "Throwing Stars" (+2 AS) for a total of AS 19, to attack Louise's movie which consists of the Warehouse Location (+2 DS), the Cat Burglar (DS 2), Maverick Cop (DS 3) with the props "Briefcase Full of Contraband" (+2 DS and increases the size of a player's hand by one card to seven), and the Helpful Servant (DS 2) flying the Helicopter (+5 DS) that has the "Family Heirloom" SFX attached, tripling the prop's DS to +15 and giving it the trait of Treasure. This gives a total DS of 24 versus Tim's AS of 19. This attack would fail, so Tim could play an SFX card to improve this attack, but instead replaces Louise's Warehouse Location card with the Mountain Pass (-5 DS) to reduce her total DS to 17 and ensure that his Attack Strength is greater. Having lost to the Kung Fu Samurai on Giant Robot Island, Louise would then be forced to discard a character (along with their props) of Tim's choice, which is likely to be the Helpful Servant and his Helicopter. The Kung Fu Samurai on Giant Robot Island Creature would also be discarded. Other players could also have interfered in both the attack and the defense of Louise's movie by playing SFX cards of their own.
Of course, as they are played, the title and quote on each card has to be read out. Some of our favourites included:
"Oh no! Tokyo will be destroyed... again!" of the Tokyo Skyline Location card
The Cargo Ship Full of Contraband Location card's "There are so many FBI, DEA and ATF jackets out there we could play scrabble!"
The Military Assault Rifle Prop card's "I'll fire aimlessly if you don't come out!"
The Nunchuks Prop card's "Wooden Dowling: $1.00; length of chain: $0.75; beating the snot of someone Kung Fu style: Priceless!"
"This mission requires silence. Oil your slippers." of the Kill by Stealth SFX card
The Surprise Inheritance SFX card's "Your father wanted you to have this when you were ready, but frankly, I don't have that kind of time!"
The Creature card Hopping Vampires, who of course go, "Boing...boing...boing!"
"How do you make a fist with so many missing fingers?" of the Yakuza Muscle Creature card
The Inscrutable Monk Character card's "Go ahead, scrute me. I dare you!"
"Does this fundoshi make me look fat?" "Dude, you're a sumo wrestler. A house makes you look fat." of the Sumo Wrestler Character card
Some of these cards, along with other samples, can be found on the game's web page. Fans of the previous B-Movie card games will be pleased to see that Skippy the Wonder Chow ("What's that Skippy? Your Kung Fu is strong?"), is included as a character, though there is just the one reference to the tentacle gag that ran through Grave Robbers from Outer Space in the Hentai Demon Creature card ("Now THAT'S a tentacle!"). Likewise, fans of the big guy will be pleased to see that there is also a Go-Jira Creature card ("I hope that we're paid up on our giant monster rampage insurance.").

Conclusions
Though Kung Fu Samurai on Giant Robot Island is subtitled "An Asian Cinema B-Movie Card Game," its emphasis is definitely more upon Hong Kong Chinese cinema over its Japanese counterpart, though big monsters, robot suits, anime and Ninja all make their appearance. But there is plenty of interaction between the two schools of movie making, and even more between the 120-cards in this game. In fact, there is more than with the previous B-Movie card games and the design is a lot more intricate. This, combined with the familiarity of the game genre makes Kung Fu Samurai on Giant Robot Island the most enjoyable in the series to date.