by Matthew Pook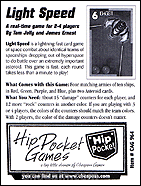 Light Speed
Published by Cheapass Games
Designed by Tom Jolly & James Ernest
Illustrated by Eduardo Müller
$5
Simultaneously released with Steam Tunnel, Light Speed is the latest of the Hip Pocket Games, the expanding product line in the Cheapass Games Empire that publishes small games at perfectly small prices. Like the first four titles from Hip Pocket Games -- Agora, Cube Farm, Nexus, and the re-packaged The Very Clever Pipe Game -- this new release is another card game that comes packaged in a small ziplock bag with their rules on a folded sheet of A5-sized paper.
Light Speed is one of the publisher's less abstract designs, and owes a debt to James Ernest Games' Fightball and Cheapass Games' Brawl, as it is another "Real-Time Card Game." It also has the distinction of being the first Hip Pocket Game to be illustrated in full color. Designed for two to four players, it's a fast card game of space combat in which up to four fleets of identical vessels drop out of hyperspace to duke it out over an important asteroid.
The game consists of four sets of identical space fleets in red, green, blue and purple, plus two asteroid cards for a total deck of forty-two cards. It requires fifteen damage counters for each player which should match each fleet's colors. Another twelve counters of some other color are required and these represent asteroid rocks within the game. The playing surface needs to be quite large (the designers are fond of a pool or snooker table) and covered with a cloth so that the cards do not slip. Finally a straight edge, such as a ruler or tape measure is needed to help check a ship's laser shots.
The ship cards are attractively done in their team colors, with each of the ten in a fleet being different. A number on the card indicates the ship's speed (beginning with the Moth at one, and then proceeding with the Sidewinder, Intruder, Osprey, Predator, Ghost, Viper, Peacemaker and Avenger, before getting to the Destroyer at ten) with lower numbered ships being faster. Also marked on the ship cards are one to four Health Points, a Shield along one or more sides or corners of the card and up to four laser blasts zapping out of the ship.
Commanding the Fleet
The basic rules cover a two-player game, but the only real difference if there are more players lies in the method of scoring. A game begins with an Asteroid card put down in the center of the table and the twelve rock counters placed on the card. A player takes their mini-fleet of ten and carefully shuffles them, before holding them face down in their hand.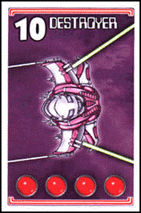 Play consists of two rounds: Fast and Scoring. In the former, both players simultaneously draw a single ship from the top of their deck and put it down on the table, so it faces any direction, but does not touch or overlap another card. Once down, it cannot be moved and must be played before another ship can be drawn from the other player's hand. This is done until both (or all) players have put down and positioned their cards. It pays to be quick as the first to put down all of their ships immediately brings the Fast Round to end and forces the other player to drop their last card down onto the table or alternatively to discard it.
Once all ships are down, Scoring begins. This is when all ships open fire at each other, with the fastest for all players going first from the Moth at one, up to the Destroyer's ten. To fire, the straight edge is aligned to the image of each ship's laser and followed until it hits another ship card or the Asteroid card. To make successful targeting easier, a ship is represented by the whole card, and not the actual image on the card. A laser can inflict between one and three damage, reducing the Health of a ship, but a shield will block all of this damage. All fire at each speed rating is simultaneous, so it is possible for identical ships to blow each other up.
If a laser hits the Asteroid, the damage it does reduces its rock counters and the firing ship keeps these. This is known as mining rocks. Once an Asteroid has no more rock counters, it too is destroyed. The rules cover simultaneous fire upon the Asteroid, which is the only aspect of Light Speed that might be said to be even slightly complex.
In the two-player game, a player scores points equal to the health of the ships they successfully blow up. If a ship survives to the end of a game in possession of mined rocks, they also count towards a player's final score. In a three or four player game, each person marks the damage their lasers inflict with the counters color coded to their fleet. Whoever inflicts the most damage gains the score for destroying the ship, with ties gaining nobody any points. Of course, the fleet with the highest score wins.
Conclusions
Light Speed is suitably named, as the game is very quick, with usual playing times of less than five minutes from start to finish. Not as abstract as some of Cheapass' other games, Light Speed is pleasingly direct in how it handles its ship-to-ship combat. There really is nothing to dislike about this game -- it is too slight for that and requires almost nothing in the way of thoughtful consideration. Light Speed will appeal to the gamer who wants something fast and furious. This makes it an almost silly, but perfect beer 'n' pretzels game to play between other things.