Having left Wizards of the Coast, Anthony Valterra has joined in on one of the most controversial d20 ventures to date: the Book of Erotic Fantasy by the Valar Project, Inc. Drawing inspiration from the Book of Unlawful Carnal Knowledge, and pointing to the Book of Vile Darkness as proof that an audience exists for adult d20 products, the Valar Project has put the hype machine into high gear. Aside from Sword & Sorcery's Arcana Unearthed, more people were talking about Valar's upcoming release than any other product than any other — and not always in a good way. Though as press I was able to get a free copy, many convention goers were grumbling about the idea of paying $9.95 for a preview, even a 32-page full-color one.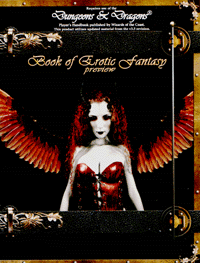 From what Valterra told me at the show, the Book of Erotic Fantasy will have a variety of d20 rules that encourage relationships between characters (and yes, many of those relationships will be sexual in nature). For example, Tantric Mages will be presented, wizardly-types that power their magic through sex. So it stands to reason such a character would need a partner in the group to "power up" with. A playtest group informed Valterra of its "Dangerous Liasons between the Drow" campaign, which sounded to him like the perfect fit. The book's section on consent in a magical world, and how spells such as Charm Person affect the definition thereof, will analyze the moral implications. All quite intriguing, I must admit.
But how many gaming groups will have the maturity to handle sexual relations between player characters? Hell, I still know players that have difficulty talking to the opposite sex, let alone roleplaying intimate acts with them. Maybe these "relationship rules" would be easiest to apply to PC/NPC relationships. Even then, a line is usually drawn that most players won't go past unless dating each other in real life. The last time sex came up in one of my ongoing campaign storylines, we got right up to the commencement of carnal relations, and said, "Okay, we'll stop right there, because — well, we're both dudes." Comfort levels for this sort of rules supplement will vary, undoubtably.
Phil Foglio and his popular comic What's New with Phil & Dixie will help soften the hardcore nature of Erotic Fantasy with an exclusive strip. And strip they will, as this installment of the long-running fan-favorite will likely be the greatly-anticipated "Sex in D&D" story, a running joke in the strip for years.
When asked what's next for the Valar Project, Valterra was blatantly honest. "That's really the question, isn't it? I get a lot of writers telling me they want to write for us, and I say 'Tell me what our next book should be, and if it sounds good, I'll pay you to write it.'" He shrugged. "It really depends what happens. It's been hard to gauge how much consumer interest is really out there. There are some people who are really interested, and some who don't ever want a product like this to exist. Maybe we'll do a whole setting and support product line, or maybe I'll go be business manager of a fruit stand after this. We'll see."
The final product, not due until October, will be a 192-page full-color hardcover that retails for $34.95. Valar's looking into the possibility of getting the book into BDSM stores as well as hobby game and book stores, which could potentially add an unknown level of extra sales. But considering how many game retailers are likely to boycott the book, extra sales venues may be needed just to reach regular levels.