Human Head Studios has launched a webpage for its upcoming board game release, Dracula's Revenge. So far, there's not much more than some wallpaper to download, but there's sure to be more updates in the weeks ahead. Can't wait to slay me some bloodsuckers.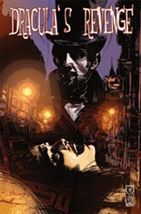 Poking around for an exact release date for Dracula's Revenge (which I never did find) yielded mention of a comic book based on the game. In an interview on a comics news site, I found the cover art for the comic, by the same guy who drew the wallpaper, Tommy Lee Edwards. There was also this quote from a member of IDW, the comic's publisher:
In April […] We're doing a new vampire comic that month based on a Human Head game called Dracula's Revenge. It's written by Matt Forbeck – the creator of the Wildstorms trading card game, and drawn by Syzmon Kudranski, whose work can be seen in the 30 Days of Night Annual.
Well, I haven't seen that yet, but the Dracula's Revenge cover looks great. And I guess we've got a better idea of when to expect the board game now. Sure is funny to hear how folks in the comic book industry think of Matt Forbeck though. Not "co-founder of Pinnacle", not "prolific game designer for numerous companies." To them, he's the guy who did the Wildstorms TCG.