I just staggered back from Peter Adkison's party (thanks, Peter!), and find Mike has one-upped me. Curses! I'll get you, evil brother of mine. Anyway…
To kick off the banquet presentations here at the GAMA Trade Show, Wizards of the Coast gave a recap of a successful 2003, and previewed the year in progress, as one would expect from the industry leader. Wizards CEO Chuck Huebner welcomed the massive hall of retailers and distributors, then thanked retailers at length for all they've done to sell WotC products.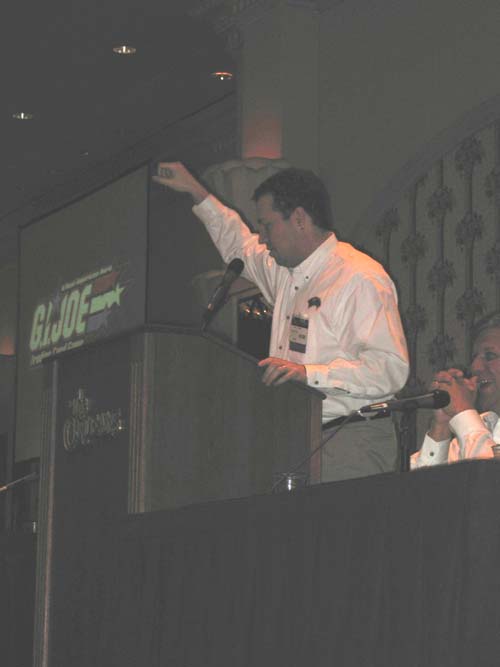 Then last year's laurels were brought out for a brief resting upon. Magic hitting an all-time sales high; the release of D&D 3.5 and the D&D Miniatures; the recent domestic release of Japan's #1 game, DuelMasters; the unexpected strength of NeoPets sales with female customers — all were mentioned in rapid succession.
The presentation turned to the year to come next, and seemed quite a catalog of products, even for a huge Hasbro-owned company. Promotional plans and impending releases for NeoPets, MLB Showdown, Magic, the new DuelMasters, the Star Wars TCG and upcoming Star Wars Miniatures (more on that later), and upcoming Avalon Hill titles were all mentioned with a steady, no-nonsense pace. The Star Sisterz charm bracelet game, coming out with three sets this year, was also introduced to those who hadn't heard of it already.
But what really got retailers acting like giddy schoolkids and yelling "Yo Joe!" was, you guessed it, the GI Joe TCG (WotC's excited as well, as you can see from the picture. No, he's not responding with "Co-braaa!!"). Timed with the 40th anniversary of the property, the base set will arrive in August accompanied by heavy marketing support. WotC plans for 21 million ads in McDonald's Happy Meals, 1 million promo cards and electronic demos in a GI Joe DVD, and ads in action figures as well. Judging from retailer response, GI Joe's deployment will be welcomed with open arms.