Yeah, it's over. Gen Con Indy has come to a close for us. The t-shirts have been counted and a winner has been declared. I must admit, I thought I had this one. By the time we had to leave the convention and meet the car to the airport, I had eight t-shirts in the bag.
It wasn't enough. On the last day, Allan surged ahead and had collected four more shirts bringing his total to ten. The deadlock has been broken. Fatality. Perfect Score.
Ah well, at least it was pretty close. Well done, Allan.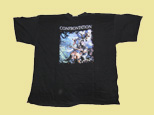 It wasn't a total loss. I came back with a few really nice t-shirts – not the least of which was my much ballyhooed, signed Confrontation t-shirt. The front design is fantastic and reflects the quality of Rackham's product line.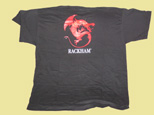 The problem is: now that it is signed, how can I wear it? I think I am going to end up putting this one away with the Schwinn Team jersey signed by downhiller Elke Brutsaert.
The other interesting t-shirt, I picked up was an nVidia t-shirt. I actually had to fill out a crappy survey to get this one, which was well within the rules of the contest.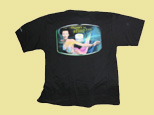 I saw a bunch of guys wandering around with this t-shirt on. Apparently, nVidia was selecting a couple of lucky t-shirt wearers a day to win a brand new graphics card. Um…whatever. I really liked the mermaid on the back, though. It was well worth the fifteen minutes to fill out the fricken' survey. I even got a cheesy badge leash to go with it!
I came back with a lot of other interesting stuff too. I got a sealed copy of The Book of Erotic Fantasy (which will probably stay sealed to keep it from contaminating the rest of my books). I bought a reprint of The Morrow Project and the original Prime Base module. The Morrow Project was a game I used to run, back in the day, and it still brings back a warm fuzzy feeling of Cold War nostalgia for me. I also found a copy of the Judge's Guild module Drak'ne Station which I will throw into the big plastic bin of classic TRAVELLER sitting in the garage.
That's about it, for now. I'll post some more interesting things about Gen Con Indy '04 when I get around to it. Again, a hearty congratulations to Allan for beating the snot out of me in the official OgreCave T-shirt Throwdown.
Wait until Gen Con SoCal, dude. You will know my wrath.