Former TSR Art Director Jim Roslof dies at 64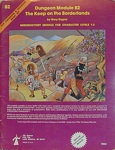 Yesterday the world lost another major influence on Dungeons & Dragons as we know it: Jim Roslof, former Art Director for TSR. In the early 1980s, Roslof, then a staff artist at TSR alongside Erol Otus, was promoted to Art Director. He then set a new course for the look & feel of D&D products by seeking out and hiring now-legendary fantasy artists including Clyde Caldwell, Jeff Easley, Larry Elmore, Jim Holloway, and Keith Parkinson. However, Roslof is probably best known for creating the cover art of Keep on the Borderlands (pictured here), the famed adventure module included with the Dungeons & Dragons Basic Set. For many roleplayers, this module (which sold over one million copies) was their first taste of a wonderful new hobby.
The crew of OgreCave wishes the best to the Roslof family.