OgreCave review: Summoner Wars reinforcements & Got It!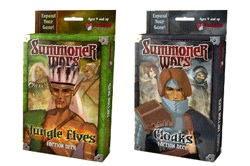 A pair of new reviews are up today. Troop movements for the Summoner Wars game continue, and Lee is back to provide military intelligence in his review of the wargame's Cloaks and Jungle Elves Reinforcement Packs. Then Demian gives us a look at a simple-yet-engaging game of mathematic puzzling, Tom Jolly's Got It!. Click through to find out if you should add these goodies to your collection.
By the way, stick with us here and on our OgreCave facebook page for reports from this weekend's KublaCon 2011. And if you're at the show, say hello to any ogres you might come across.