by Matthew Pook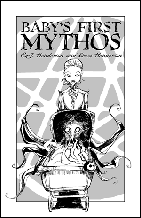 Baby's First Mythos
Produced by Die, Monster, Die!
Published by Z-Man Games
Written by C. J. Henderson
Illustrated by Erica Henderson
28-page saddle stitched A5-sized b & w book
$4.95

Z-Man Games is better known for its card games, such as the Shadowfist CCG and the quartet of B-Movie Action Games, Grave Robbers from Outer Space, Cannibal Pygmies in the Jungle of Doom, Kung-Fu Robots on Monster Island, and the most recent, Grave Robbers II: Skippy's Revenge. With only one or two books under its belt – Cartoon Action Hour, and the wargame within a book, Warchon: Clash at Sygillis – Z-Man's latest release sends it in a very different direction. In fact, it almost goes into the proper literary field with Baby's First Mythos, a collection of poetry. Thankfully, this dipping of toes into a different part of the market is not as much of a stretch as it might sound, for the subject of said collection will be dear to the black heart of many a gamer. As the collection's title implies, this book is especially for those devotees of Chaosium's venerable Call of Cthulhu RPG, and the works of the writer H.P. Lovecraft.

Rather than being any old collection, the author of Baby's First Mythos has modelled it upon the well-known form of a child's first "A-Z" primer and thus set himself a challenge in writing twenty-six verses, each based upon a letter of the alphabet. Of course, the subject matter is much, much darker than that of your ordinary ABC, something akin to Edward Gorey's The Gashlycrumb Tinies. Where that classic and favourite of gothdom everywhere described the tragic and unfortunate deaths of twenty-six young children, Baby's First Mythos possesses a much broader scope, one that is, of course, cosmic in scale.

The format is simple. Each page is dominated by a three-quarter page illustration by Erica Henderson, while the lower quarter is taken up by a four or five line verse authored by her father, C.J. Henderson. Opening with an ode to Azathoth, this little book proceeds through the alphabet to include Cthulhu himself, Dagon, Herbert West, H.P. Lovecraft, the Necronomicon, the sunken city of R'yleh, the Whateleys and the dark ice world of Yuggoth. Lesser known elements are also included, such as Gol-Goroth, god of darkness and resident underneath Mount Antarktos near the South Pole; the crystalline Old One, Q'yth-az; and Ubb, the father of worms.

While the illustrations are all themselves fitting to their subjects and well done, the feeling is that not all of the collection's pieces of poetry work as well as the author intended. It is not that their content is inappropriate to their subject, but rather that the writing does not always do their subjects the justice. Compare the following two page entries, the first of which does not suffer from this problem...
C is for CTHULHU,
Who lies in R'yleh a' dreaming,
One sight of whom leaves most,
Gibbering, drooling or screaming.
... while the second does...
Y is for the Mi-Go homeworld, YUGGOTH,
Where they build the Shining Trapezohedron,
And where both Glaaki and Rhan-Tegoth vacationed,
While on their separate ways to Earth and beyond.
The feeling one gets in these few cases like the Yuggoth page is of a forced attempt at rhyming, or rather, near-rhyming, that doesn't quite work.

Conclusions
If the occasionally forced nature of this verse collection is overlooked, there is plenty to enjoy in Baby's First Mythos, particularly for devotees of Lovecraft, the Mythos and Call of Cthulhu. It cannot though, live up to its claim to be the, "[F]unniest Lovecraft book ever!" That claim, at least for 2003, might go to Elegantly Amused Press' The Eldritch Quintuplets, a more comprehensive and effective collection of limericks, which has only been given a limited print run. That will not be a problem for Baby's First Mythos, which will receive a much wider distribution.

As a collection, Baby's First Mythos is not perfect. Nevertheless, it is enjoyable and it is amusing, and finally, it is inexpensive. All of which makes it the ideal gift for any Mythos fan.