by Allan Sugarbaker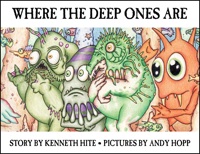 Where the Deep Ones Are
Published by Atlas Games
Written by Kenneth Hite
Illustrated by Andy Hopp
32 page full-color "children's book", hardcover
$19.95
This game is featured in our OgreCave Christmas Gift Guide 2008.
Merely stating the title of Where the Deep Ones Are should be enough to put a wry (evil?) smile on any gamer's face. Yes, it really is a combination of Maurice Sendak's Where the Wild Things Are and a Cthulhu Mythos story - specifically, H.P. Lovecraft's The Shadow Over Innsmouth. It buries the needle on cuteness while staying true to its Mythos roots, but suffers slightly from identity crisis.
Something's Fishy
Instead of a boy named Max causing trouble in his wolf costume, the story centers on Bobby, a play on Robert Olmstead, the originally-unnamed narrator of Lovecraft's tale. Naturally, little Bobby wears a frog-squid costume for his cavorting, all the better to meet up with the frog-squid men known to Cthulhu fans as Deep Ones. Sent to bed without fish supper, Bobby travels downriver from his room to the town of Innsmouth. After ignoring warnings of Deep Ones, Bobby searches for fish until forced to run from fishy pursuers. In the end, just like the original Lovecraft character, little Bobby decides it might not be so bad to end up a creature beneath the waves, and plans to return to Innsmouth soon.
While kids might enjoy the book, Where the Deep Ones Are isn't truly designed to introduce children to the Mythos. This is not because of the overall theme - hey, if a kid likes Cthulhu, more power to him/her - but because of the unexplained references which could distract or annoy the uninitiated reader. In fact, without prior knowledge of the original Lovecraft story, certain pages are somewhat confusing. Just who, exactly, is Bobby imagining busting out of prison? Why, that's Bobby's cousin Larry Marsh, a fact that will be lost on neophytes, leaving a whole page seemingly out of place.
But let's face it: Where the Deep Ones Are wasn't designed for newbies. This book was designed to entertain Lovecraft and Cthulhu aficionados, a job it does quite well. This book was made for the lifelong enthusiast, who will chuckle at the mention of little Bobby's cousin Larry Marsh, at the Massachusetts map on Bobby's wall, and at the Innsmouth hotel staff standing in a row, each one more fishlike than the last.
Andy Hopp's illustrations are slime-glistening perfection, capturing the essence of the town of Innsmouth and strange creatures from the sea in authentic children's book form. Cthulhu specialist Ken Hite's version of the story maintains a creepy vibe despite the soft, puffy mascot-suit look of the beasts. The book's layout imitates much of Sendak's classic with precision, completing the demented project.
Conclusions
Where the Deep Ones Are takes Maurice Sendak's classic children's book, skins it alive, and wears its face around town for kicks. This misbegotten crossbreed story will sell on the strength of the idea alone. Any true gamer would have to admit that Sendak's wild things practically cry out for a Cthulhu tie-in (or maybe even official game stats). This interbreeding of ideas may be as close as they'll ever get. Though not exactly the perfect kids' introduction to the Mythos, for Cthulhu fans, this is just the right kind of twisted.
Related reviews on OgreCave: