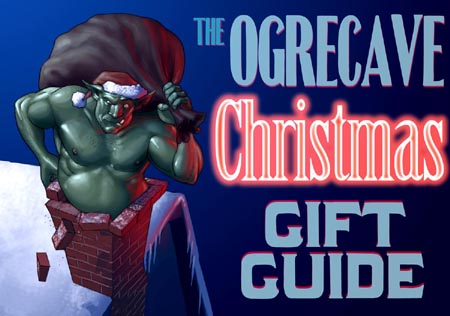 OgreCave's Christmas Gift Guide 2007

Assorted dice we throw,
Gaming every day,
It all yields lists, you know,
Of things we like to play.


From classics to new bling,
We've brought the best to light.
Let OgreCave help you to bring
A present that's just right!
'Tis the season of excessive eating, inadequately retooled song lyrics, marathon gaming, and holiday cheer for all. Friends and relatives, all trapped by snow and familial obligations, will be more inclined to throw some dice or play a few hands during this relaxing season. Be ready for these opportunities by gathering or giving the most giftworthy game products from the past year by referring to OgreCave's Christmas Gift Guide 2007.

This year marks our seventh annual guide, which will once again steer the less game-aware away from sweaters and Isotoner gloves, leading instead toward the best bets for gamer gifts. As always, we've listed some of our favorite releases of the last twelve months for you and yours to study and employ in the shopping venue of your choice. So read on, as we present the presents that are most likely to make gamers happy.

Our holiday gift suggestions for 2007 can be found in the following lists:

Part 1 - Twelve Stocking Stuffer Games (12 Games of $20 or Less)
Part 2 - Twelve Games Under the Tree (12 Games for Over $20)
Part 3 - Twelve Games Around The d20 (12 Games for the d20 System)
Part 4 - An Aetheric Guide For Christmas (Downloadable Game Products)

Unlike your annual supply of eggnog, the games we've suggested in previous years are still full of goodness and are safe to sample. You'll find many excellent gift suggestions in our lists from 2006, 2005, 2004, 2003, 2002 or even 2001. Read on, and trust in OgreCave to provide a variety of holiday loot advice. We just may not be able to get it down the chimney.

Merry Christmas and Happy Holidays from the Cave Dwellers of OgreCave!

OgreXmas logo by Colin Adams.