OgreCave Christmas Gift Guide, parts 2 and 3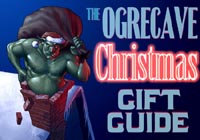 The holiday season continues to rage around us all, and you may be caught up in the spirit of giving, or way behind on your shopping. Either way, the crew of OgreCave has more gift giving suggestions for you as our OgreCave Christmas Gift Guide 2010 sorts out the gaming goodies from the past year. Our tenth annual guide resumes with Twelve Days of Roleplaying, which provides our RPG suggestions, and Twelve Boxes for Christmas, which presents our selection of board games we'd recommend as gifts. Use these lists in good cheer, good health, and good speed – the holidays are closing in!

The Cave dwellers have another list or two up their collective sleeves, but those can steep in holiday egg nog for a bit longer. Check back soon for more advice to get you through the end of a great year in gaming.