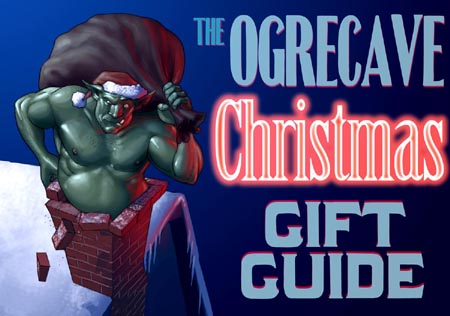 OgreCave's Christmas Gift Guide 2010

The holiday season is here once more, and OgreCave is ready to provide the gaming gift ideas you can trust. Like clockwork, OgreCave's Christmas Gift Guide 2010 has appeared, been stuffed down the chimney, and immediately raided the kitchen for snacks. Why? It's because we're at home making holiday gift suggestions for you – the Cave dwellers know what you like, and have more ideas of what you'll like, or like to give to friends, next. Trust us – we've been doing this a while.
In our tenth annual guide – yes, we've been doing this for a decade now! – we highlight a range of quality game gift suggestions for both casual and serious gamers. We've listed some of our favorite releases of the last twelve months, so take notice, get to the store, and pick up a few of our recommendations. Holiday gaming cheer won't be far behind.
Our holiday gift suggestions for 2010 are in the following lists:
Part 1 - Twelve Stocking Stuffer Games (12 Games of $25 or Less)
Part 2 - Twelve Days of Roleplaying (12 RPG Gift Ideas)
Part 3 - Twelve Boxes for Christmas (12 Boardgame Gift Ideas)
Part 4 - An Aetheric Christmas Dozen (12 Gifts in Electronic Formats)

Even the best candy canes get gummy and gross after a while. Though old holiday treats may only be good for freshening the dog's breath, our holiday gift suggestions from years past are still enjoyable. You'll find plenty of great gift suggestions in our lists from 2009, 2008, 2007, 2006, 2005, 2004, 2003, 2002 or even in our first list back in 2001. Read on, take a trip down memory lane, and trust in OgreCave to point you toward a variety of holiday gaming cheer.
Merry Christmas and Happy Holidays from the Cave Dwellers of OgreCave!
OgreXmas logo by Colin Adams.