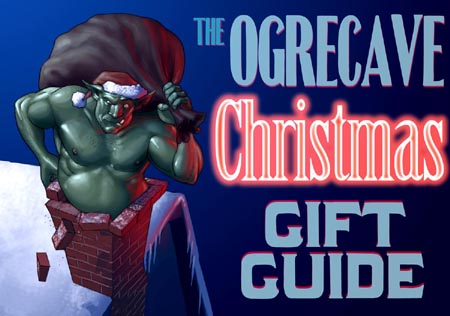 OgreCave's Christmas Gift Guide 2009

Once again, the holiday season is upon us, and OgreCave has your seasonal gaming needs covered. Have no fear of unfortunate gift giving choices, for OgreCave's Christmas Gift Guide 2009 has compiled our usual list to steer you and your loved ones away from relationship-damaging gifts of Chia Pets and sweater vests. Allow the Cave dwellers, your humble ogre servants in this endeavor, to assist with some excellent choices to give (or receive).
In our ninth annual guide, we offer our usual wide range of quality game gift suggestions. We've listed some of our favorite releases of the last twelve months, so you have no excuse if you fail to find an enjoyable game for the holidays. So peruse our Guide, and set forth fully prepared to find excellent game products from the waning year.
Our holiday gift suggestions for 2009 are in the following lists:
Part 1 - Twelve Stocking Stuffer Games (12 Games of $25 or Less)
Part 2 - Twelve Days of Roleplaying (12 RPG Gift Ideas)
Part 3 - Twelve Boxes for Christmas (12 Boardgame Gift Ideas)
Part 4 - An Aetheric Christmas Dozen (12 Gifts in Electronic Formats)
In time, that fruitcake may need to be chiseled off the plate and tossed out, but the games we've suggested in previous years are still ready to be enjoyed. You'll find many excellent gift suggestions in our lists from 2008, 2007, 2006, 2005, 2004, 2003, 2002 or even 2001. Read on, and trust in OgreCave to point you toward a variety of holiday gaming cheer.
Merry Christmas and Happy Holidays from the Cave Dwellers of OgreCave!
OgreXmas logo by Colin Adams.