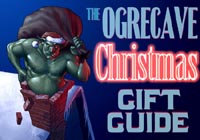 Twelve Stocking Stuffer Games
A dozen games for $25 or Less for 2009
By Gerald Cameron, Dennis Hancock, Steve Kani, Demian Katz, Matthew Pook, Allan Sugarbaker, Mike Sugarbaker, and Lee Valentine
Plenty of games came out since last December, and many were inexpensive, stocking-sized items. Not all of them are worth attaching a gift tag though, so be prepared with the gift advise OgreCave's staff has compiled below. For years now, we've been suggesting our picks of the best in holiday gaming giftage. Once again, our first "Twelve Games of..." list addresses the less expensive items, each a great stocking stuffer or add-on gift, for $25 or less. Feel free to direct friends and relatives to our guide as well, to better serve your own gift-receiving concerns.
The cave dwellers of OgreCave have chosen the following joy-inducing gifts from the numerous releases over the past year. Scroll down to browse the tabletop gaming treasures sure to make your yuletide a very high tide indeed. Our selections of cheap-yet-giftworthy products for 2009 are...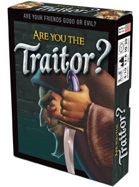 Are You The Traitor?
Looney Labs, $16
Andy Looney's new twist on Are You A Werewolf drives towards fewer players - because let's face it, if you have more than eight people in your game night, you won't be convincing them to do one thing at one time unless it's eating - and quicker, more atomic gameplay. Each round, two players are wizards, one of whom is evil; the rest are guards, one of whom has the Key. Oh, except also one of them is the Traitor, looking to tip the evil wizard off to the identity of the key holder. (Don't worry, handy charts are provided listing what the player in each role always wants to accomplish.) Get the key to the good wizard, or nab it for evil, and you get one of many, many lavishly illustrated treasure cards. Get a bunch of treasure and - surprise - you win! This will appeal greatly to recovering Are You A Werewolf or Mafia addicts, anyone who thinks they're psychic, and any fans of chaotic casual play in the classic Looney mold.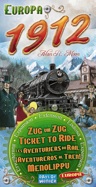 Ticket to Ride: Europa 1912
Days of Wonder, $20
This great new expansion for the Ticket to Ride (TTR) series is primarily designed, as its name implies, to work with the European map in the same way that TTR: 1910 worked with the original American map. In addition to new tickets for TTR: Europe and three new ways to play, TTR: Europa 1912 includes a new mechanic called Warehouses and Depots, that allows for periodic rapid card drawing using a clever system that pits greed and immediate gratification against each other. Warehouses and Depots are usable with all TTR maps, making this a solid gift idea for any Ticket to Ride fan.
Our review staff has ridden upon the railways of Europa extensively. Read our full Ticket to Ride: Europa 1912 review here.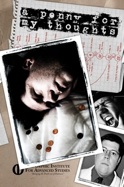 A Penny for My Thoughts
Evil Hat Productions, $15
Popular RPG and boardgame podcaster Paul Tevis has released his first RPG design, courtesy of Evil Hat Productions. In this GMless game, players take on the role of amnesiacs who are undergoing a revolutionary new group drug therapy. Patients gain the ability to gain glimpses of the other patients' pasts, which they use to prod the owners of those memories into recalling three key events in their pasts, including the traumas that caused the amnesia! Suitable for a wide variety of tones from gonzo to intimately personal, Penny even comes with variants for Bourne Identity-style espionage and Lovecraftian horror. Better yet, it is written to allow a table of players to pick up the game straight from the book, even if none of them has read the rules before. A true pick-up RPG!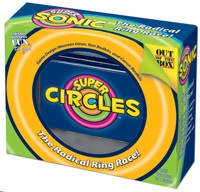 Super Circles
Out of the Box Publishing, $9.99
This speedy card game evokes the same level of reflexive twitchiness as a highly competitive round of Uno or Jungle Speed, but has a definitive, rapid end as well. Players must place cards with four colored concentric circles atop another card in a central stack. Each card must have a matching circle of the same color and number (1-4) to play upon. Simple enough, but as an added wrinkle, each card played must match a different numbered circle than the card played just before. The result is a turnless, frenzied mass exodus of cards, and reflex-testing games that usually last less than five minutes. Super Circles is a solid little game for all ages, and perfect for casual gamers.
Learn more about Super Circles, and its sister game 7 Ate 9, in our full review.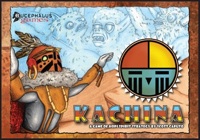 Kachina
Bucephalus Games; $24.95
This mostly-abstract strategy game has players creating an interlocking grid of tiles that represent Kachina, spirits from Hopi legend. By playing high-valued tiles in advantageous positions and taking advantage of the special abilities of otherwise low-valued tiles, players try to gain dominance of the rows and columns in the crossword-style pattern they create. Although American-published, this one should appeal to fans of Euro-style games with its simple but deep gameplay and sturdy, attractive presentation.
Get to know the Kachina tribe - read our full review of Kachina here.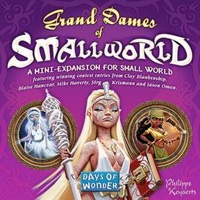 Grand Dames of Small World and Small World: Cursed!
Days of Wonder, $10 each
These two new mini-expansions for the hit board game Small World are based on the designs of the winners of Days of Wonder's build-your-own expansions contest. Each expansion costs a mere $10.00, so buy one as a stocking stuffer, buy them both as a cool surprise for your favorite Small World player, or really splurge and buy both plus the Small World base game for a mega gift package of gaming goodness. Collectively, these two expansions add 5 new race banners, a bunch of race tokens, and 7 new special power badges. There's even a spare Race banner and a couple of spare Special Power banners to make your own homemade Small World creations.
OgreCave has travelled upon this "Small World" before. Read our full review of Small World here.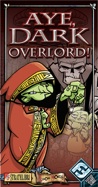 Aye, Dark Overlord!
Fantasy Flight Games, $24.95
Have you ever wondered what it would be like to be the sniveling minion of a dark overlord? How about one that has failed at his sniveling minion duties? Aye, Dark Overlord! is a storytelling card game in which players get to take on the role of a goblin underling of the evil Dark Overlord Rigor Mortis.  One player takes on the role of the Dark Overlord, while the rest play cards from their hand that depict various obstacles for success all the while spinning a far fetched tale of failure – pointing the blame at someone else, of course.  The player that takes on the role of the Dark Overlord acts as the judge and doles out displeased looks to underlings with the worst excuses. The game can accommodate up to ten players and plays fairly quickly with each round lasting about a half hour. Boasting quirky, enjoyable artwork, Aye, Dark Overlord! is a great game for the holidays!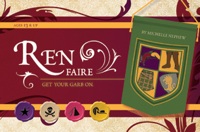 Ren Faire
Atlas Games, $24.95
This innovative game is part card game, part party game, and part dress-up dolls. Each Ren Faire player is at the festival without proper attire, and must entertain the crowd to earn enough money to buy a costume. Half of the game's cards are transparent (ala Gloom, which was on our 2004 list), and show an article of clothing. Each turn, players complete tasks from their Performance cards in an attempt to gain coins. The party game comes into play here, as these tasks range from juggling to belly dancing to talking like a pirate. Players use their coins to buy the see-through Costume cards, placing them atop their Character card in order to see their new look. The first player to complete their costume wins. The newest release on the list, Ren Faire should be cavorting at your local store starting now.
OgreCave caught wind of this title way back at this year's GAMA Trade Show. Listen to our podcast interview with Ren Faire designer Michelle Nephew in this Gaming News Update episode live from GTS '09.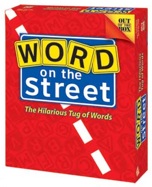 Word on the Street
Out of the Box Publishing, $24.95
It isn't often that we recommend a word game on our annual lists, but Out of the Box has translated the usual war of words into an anxious roadside struggle. Two teams complete to pull letters to their side of the street by selecting answers to random categories in the allotted time. For each time a letter appears in an answer, that letter tile is moved toward the answering team's side. Once a letter moves off the side of the road, that side's team removes and claims it. If it sounds like tug-of-war with your vocabulary as the leverage, then you've got the right idea. Exceedingly easy to learn, Word on the Street is a great game to hook those unwary non-gamers with before springing other addicting games.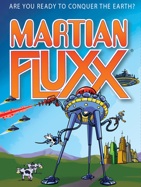 Martian Fluxx
Looney Labs, $16.00
Maybe you've heard of Fluxx, maybe you haven't. For those of you who aren't in the know, Martian Fluxx is a card game where players try to win by playing goal cards and fulfilling all the requirements. The "Fluxx" part is that any player, during the course of the game, can change the goals, add or subtract rules, gain, steal or destroy possessions, and win. In Martian Fluxx, players are aliens trying to take over the Earth, and humans are bad (read: Creeper cards). Beware of the Ungoal that can spread through the fleshy Earthlings - if bacteria spreads to everyone, you all must flee and the puny humans get to keep their precious planet. Everything you've ever seen in a cheesy Martian movie is here, from the Ray Guns and Space Suit, to a Space Modulator and the Mothership. For Fluxx veterans, this is another variation on the theme, and shares many similarities with the Zombie Fluxx and Monty Python Fluxx iterations. It all starts so innocently - just draw one and play one, human.

Cthulhu 101
Atomic Overmind Press, $8.95
If you're a gamer and have no idea who the great Cthulhu is by now – where have you been? All right, so you don't know, or you know someone who doesn't know, but not to worry as there is no better man to explain almost everything you need to know (and a little more) than Mr. Kenneth Hite. (Assuming you really do want to know everything about an alien god-like being that seeped down from the stars and is now imprisoned dreaming in the city of R'lyeh somewhere off Easter Island?) Having already won an Origins Award for his Tour de Lovecraft, a thoughtful and critical journey through the works of H. P. Lovecraft, Hite gives us the perfect introduction to Cthulhu, to Lovecraft, and to the Cthulhu Mythos in general. It's short, it's punchy, it's great as a refresher course in great Cthulhu, or it's an excellent set of pointers to further reading. Plus, it fits in your pocket, unlike Cthulhu.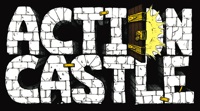 Action Castle
Memento Mori Theatricks, $5
Remember text adventure games? Well, we haven't done a demographic study lately, but if you're old enough to think tabletop games are a good idea at all, you probably remember typing "go north" into a prompt at a computer and getting a whole world spat back out at you, complete with puzzles, NPCs, even the occasional monster to kill. Action Castle is the first published game to use Jared Sorenson's Parsely engine, which seems to boil down to "GM, act like a computer. Players, take turns making commands. Here's a map and here's how certain stuff reacts. Go!" But hey, it's cheap, it's convenient, and it takes as many players as you throw at it - we played in a game at PAX this year with over 100 players. It's gonna be a blast at New Year's parties. Enter, explore the castle and score as many points as possible. Great for pickup games or playing on the move, Action Castle lets you play like it's 1981 again.

That's the end of our first gift list for 2009, offering low-cost suggestions for gift-givers on a budget, or stocking stuffer items for add-on giftage. But even when the economy is troubled, friends and family are often willing to dig deeper and get a great, memorable gift. You should guide them toward our other 2009 gift lists for the larger-ticket items we'd recommend.