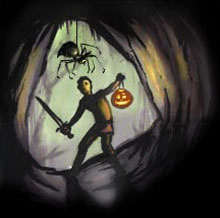 OgreCave's Screams from the Cave 2008

What better time of year to throw the spotlight on the creepy beasts that lurch in dark corners and unseen alleys than the weeks leading to Halloween. Even if you don't have kids around - and no, those aren't the beasts in question - you can celebrate the spooky season by bringing out games of monsters and haunts. A dark night or two of gaming with like-minded cultists - sorry, friends - is sure to raise everyone's spirits. (sorry again)
Naturally, creepy Halloween-appropriate products come out year 'round, so if we've already got something carved on the Cave walls about products from earlier in the year, we'll point those out here too.
Interviews that Scream
Stan! about The Littlest Shoggoth and other topics (11/7/08)

with Harley Stroh of Goodman Games about the Age of Cthulhu line (10/30/08)
Reviews that Scream
Fear Itself (Pelgrane Press)
Happy gaming and Happy Halloween!